Description
Gilbert Munster Rugby Official Replicia Ball sizes 4 & 5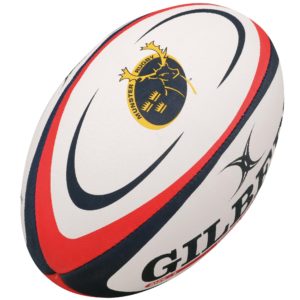 Gilbert have designed a supporter range for the Guinness Pro 14 so you can support your favourite team.
Munster Rugby Club have a huge history dating back to when the Munster Branch was established in 1879 with the team playing their first game against Leinster in 1938. During the 2017-2018 season, Munster made history by reaching the Champions Cup quarter-finals for the 17th time.
Introducing the Munster Replica Ball. For players who want to excel their performance at training by practicing at home, the Munster Replica Ball is perfect for honing in your skills as well as standing proud on the mantel piece. For supporters who want a constant reminder of their beloved team, the Munster Replica Ball has the logo clearly in the centre of the ball with their bright colours surrounding, there is no questioning where your loyalties lie.
The Munster Replica Ball is available in sizes 5, 4, midi and mini for both adults and juniors to enjoy its expert qualities.
The 3 Ply backing material ensures great shape retention of the ball whether it is being used for fun rugby or going on display and the synthetic latex bladder guarantees excellent air retention.
If you are looking for the perfect gift for a loyal Munster fanatic, get the replica ball now.