Description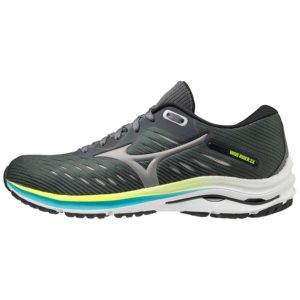 It's no surprise the Wave Rider is one of Mizuno's most popular shoes year after year. Great for everyday runs, the Wave Rider 24 provides a smooth and stable ride with exceptional durability.
What You'll Love
Soft landings make for a more enjoyable running experience
A stable ride that helps you maintain good form and run more efficiently
A comfortable fit, thanks to the lightweight and breathable upper
A smooth transition from heel-to-toe with every stride
If you ran in the Wave Rider 23, you will notice some slight changed to this version. Mizuno's goal was to elevate the performance of the Wave Rider while maintaining the classic feel of previous versions.
What's New
More flexibility in the forefoot, thanks to reconfigured flex grooves
A lighter, softer, more responsive ride, provided by a new midsole foam called Mizuno Enerzy
A more plush heel collar by adding more foam around your ankle
More wiggle room for your toes by rounding off the toebox
Model Number: J1GD2003.16
MIDSOLE
U4ic is a lightweight midsole that provides optimal shock absorption, improved durability, and a resilient ride.
Mizuno Enerzy is a lighter, more cushioned version of U4ic that delivers a soft, pillowy underfoot feel for cushion upon impact.
Mizuno Wave consists of a redesigned elastic, thermal plastic wave running from the heel to the midfoot, creating an incredibly springy and well-cushioned ride.
OUTSOLE
X10 located in the heel is made of durable carbon rubber for enhanced traction.
Blown rubber in the forefoot increases cushioning and responsiveness.
Flex Controllers placed in high flex areas on the outsole act as miniature wave plates for increased flexibility and reduced weight.
UPPER
Engineered Air Mesh offers lightweight comfort and breathability.
Coming to the 24th generation Wave Rider series, featured with Mizuno's latest technology: Mizuno EnerzyMizuno Enerzy is Mizuno's newly developed mid-sole material with the highest resilience ever.Compress the impact generated when landing, while using its flexibility to rebound with minimal energy loss. Compared with traditional midsole materials, Mizuno Enerzy's softness is increased by about 17%, and the rebound force is increased by about 15%.

In terms of cushioning performance, it is about 6.7% higher than the previous generation, and the rebound force is about 12.1% higher.

Thus, Mizuno Wave technology ensures smoothness and stability, and achieve the best balance of stability and rebound during running, giving runners a different feeling.

Mizuno Enerzy heel wedge provide softer and bouncier heel cushioning. Covering the shank area with Mizuno Enerzy enhances smoother and softer transitions
Mizuno Wave delivers cushioning, stability and response for smooth runs
Engineered air mesh provides a soft fit and breathability